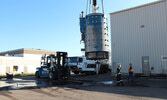 Removal of the old pit furnace
Out with the old…
After many years of service, our large pit furnace (and polymer quench) has been retired and removed from our shop. In its place, we'll be installing a new pit furnace for carburizing and Q&T work, to handle parts up to 32"OD, 68" long, 1,800 lb. As part of this renewal project, we will be installing an oil quench system, using a fast oil quench to handle to the wide range of part sizes, shapes and material grades that come through our shop.
Stay tuned for more updates…
Contact Thermex for more information.