NITROX (FNC + Post Ox)
Ferritic Nitrocarburizing
Ferritic NitroCarburizing (FNC) uses ammonia and other gases in a controlled and continuously monitored environment to supply the nitrogen and carbon for diffusion into the part. FNC is a viable alternative to QPQ Liquid Nitriding. The FNC process produces a thin, high-hardness case that is wear and corrosion resistant, with little or no distortion of the part during processing. One immediate benefit of FNC is the reduced price relative to Liquid Nitirding.
PROCESS ATTRIBUTES:

High surface hardness and wear resistance.
Enhanced fatigue resistance.
Enhanced corrosion resistance.
Reduced risk of distortion.
Attractive charcoal-gray finish.
Process up to:


75" long

39" diameter

3,000 pounds
The work zone size is 1,000 mm (39") OD x 1,900 mm (75") deep. A maximum gross weight of 3,000 lbs can be processed in a load.

FNC is suitable for a wide variety of carbon steels, low alloy steels, tool steels, and cast irons. FNC is a low temperature case hardening process that is ideal for producing hardened surfaces on pre-heat treated alloy steels such as 4140 and 4340, pre-heat treated tool steels such as H13, and specialty grades such as Nitralloy 135M.
Our FNC process is not yet available for use with stainless steels, but a solution is being developed.
PROCESS SELECTION AND QUALITY CONTROL

FNC requires precise and verifiable process control of the treatment process. Thermex operates under an ISO Certified Registered Quality Management System. Process quality control measures include:

Managed using an automatic nitriding potential control system based on hydrogen probe measurements of the atmosphere. This provides complete control of temperature, time, and atmosphere.

Test coupons of matching material are run with all nitriding loads. Coupons can then be used for metallurgical analysis in Thermex's in-house metals testing laboratory. Random microhardness case depth surveys ensure that process specifications are being met. Example below.

Temperature uniformity surveys of furnaces.
Contact Thermex for more information on our FNC - Post Ox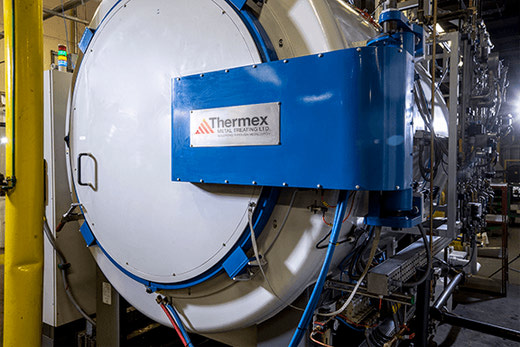 Gas FNC is the modern, environmentally preferred alternative to Liquid Nitriding and offers greater process control, equivalent to better part properties, and lower costs.