Why Thermex? We create superior results for our customers.

The impact of heat treating in your daily life:


Expertise


Our operation is supported by metallurgical engineers and senior heat treating technicians with years of experience and background in ferrous heat treating. Combined with our in-house metallurgical lab, we have the knowledge, resources and expertise to develop suitable processes, answer technical questions, and analyze materials. No matter the part or alloy grade, we will be able to advise you on how to best process your part for optimum service life, and to answer questions about materials, heat treating processes, and their connection to suitability for service.


Experience


Thermex has been delivering solutions through metallurgy since 1978. Our production staff, laboratory staff, and engineers are all experienced in a wide range of heat treating processes.


Customer Solutions Development


Thermex will work with you to develop unique solutions to your specific applications. This includes process design, testing, and evaluation as needed.


Confidentiality


When Thermex develops unique process solutions for your applications, these solutions are treated as business intelligence. Your investment benefits you, not your competitors.


A Wide Variety of Processes


Because Thermex delivers more heat treating processes under one roof than any other shop in Western Canada, we're free to recommend the solution that best meets your needs and budget. Need to process large parts? Want to minimize distortion of long parts? Thermex can meet those needs.


Superior Process Control


All heat treating operations are carried out under an ISO Certified Quality Management System. All furnaces are equipped with automatic digital process controllers. Furnace temperature, atmosphere, and other process variables are constantly controlled and recorded. This tight control helps to ensure that results are reproducible. Your parts get the optimal heat treatment—every time.


Ongoing Quality Testing


Coupons of matching material are run with furnace loads, then randomly tested for quality control purposes. All test equipment is calibrated regularly. Hardness tester accuracy is checked daily.


A Commitment to Excellence


Thermex is continuously expanding its services. We're continually upgrading our processes and investing in new and improved technologies and process control, with the aim of providing the highest quality and most comprehensive services.

From a clean shop floor to state-of-the-art process control, Thermex is committed to giving your parts top quality treatment. Contact Us for more information on our full range of metal heat treating services. Want to discuss what Thermex can do for you? Request a meeting here.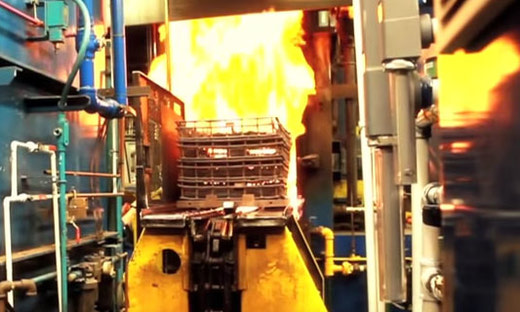 Have you ever wished you had a video that showed the depth of the heat treat industry to your customer and how heat treating touches every aspect of daily life? Well now you have it.